On the 4th of May 2020, the Nigeria Centre of Disease Control, NCDC has confirmed that new cases of coronavirus (COVID-19) are now 245 in Nigeria.  This was confirmed at the NCDC official website on Monday night.
According to the NCDC, "No new state has reported a case in the last 24 hours.
Till date, 2802 cases have been confirmed, 417 cases have been discharged and 93 deaths have been recorded in 34 states and the Federal Capital Territory
The 245 new cases are reported from 16 states- Lagos(76), Katsina(37), Kano(23), FCT(19), Jigawa(32), Borno(18), Edo(10), Bauchi(9), Adamawa(6) Oyo(5), Ogun(5), Ekiti(1), Osun(1), Benue(1), Niger(1), Zamfara(1)
Yesterday, NCDC confirmed 170 new cases, 38 death 
According to NCDC, "Nine cases previously announced as discharged cases, were reported in error.
Therefore, there are 417 cases that have been discharged One case reported in Nasarawa was a repeat test. The state has a total of 11 confirmed cases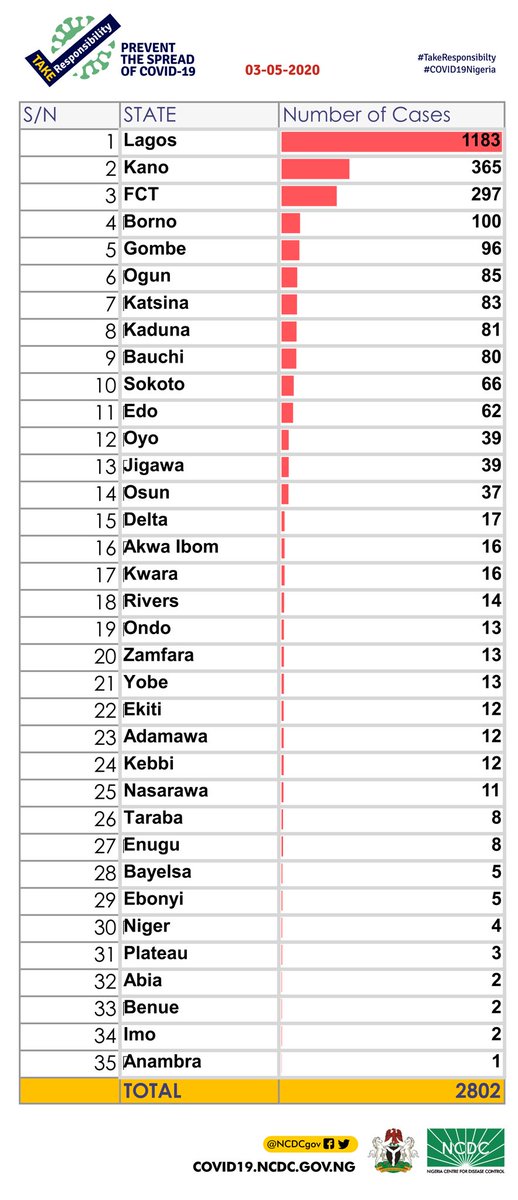 How do you see the New confirmed cases of coronavirus in Nigeria today?
Drop Your comment
#Staysafe